Topic: FIS Control Not Working
Hello,
I have been attempting to get FIS control to work on my 2003 MKIV GTI for the last few hours on my new cluster (not IMMO adapted yet) No matter what I try, or what coding I have placed in the cluster I cannot get the FIS control to display on the FIS screen. Current coding is 16234. I have no Nav installed but the factory Monsoon radio sends station info to the cluster and is displayed at the top.
The Up/Down/Reset buttons on the wiper stalk work when the cluster is directly connected to the car. However, once I install the FIS control adapters and plug in the FIS control, I cannot cycle through the screens anymore. The buttons are completely dead. I have checked the wiring adapters with a multi-meter and all connections are OK.
The FIS is available by bluetooth so I know it is getting power. I attempted to update to the most recent version with the android update app but all it does is connect to the FIS control. I waited over 15 minutes and the status did not change.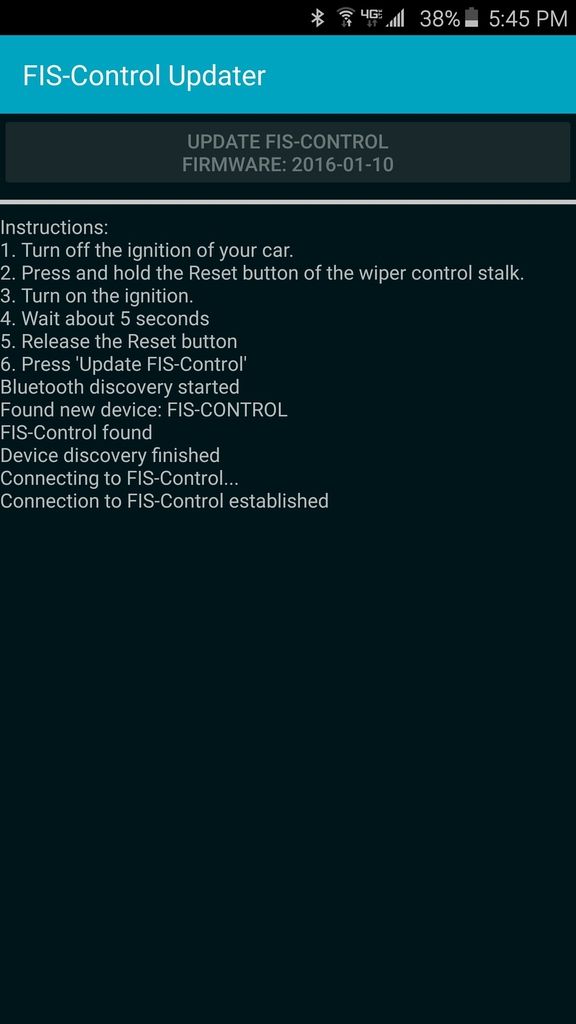 At this point I am out of ideas. Nothing works and it looks like I was shipped a bad FIS control box.

Suggestions? Any help would be greatly appreciated.